Last week, I experimented with some new iPad apps I'd been meaning to try for awhile, as part of my "journeys in iPadland," and my quest to pretty much accomplish as much of my work as possible on my iPad2. Why?
a. Because the video card on my iBook died (ok, it was 6 years old, so Apple is off the hook)
b. I won my iPad2 from the good folks at
blekko
during the Web 2.0 Conference this spring (thank you thank you!), and by gosh, I want to do them proud.
While I was thrilled over the summer to discover Pandora for music, Buffer and Twittelator for social media updates, and Pages for creating documents, I was still in need of some apps in the areas of:
-
calendars and scheduling
-
budgeting
-
organizing photo albums
I'm pleased to report I found some great tools for all three!
1. Calendars and Scheduling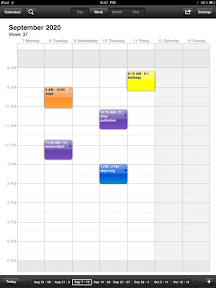 The
Week Calendar HD
was by far the easiest calender to use, and offers great versatility. The navigation is very intuitive, making it easy to toggle between Day, Week, Month, and Year views, and to add new events, both for one-time amd recurring instances. Drag and drop allows you to move events around easily, and to cut and paste events both as single and recurring ones. A variety of alerts can be created, from 5 minutes to 2 days prior to the event, and I love the custom color coding feature, which makes it easy to differentiate multiple projects at a glance.
Users can customize what hours appear for the start and end of the day, and can choose which day of the week is your start day.
The program syncs with Google and Outlook calendars via iTunes, and while I haven't tried this feature yet, I have noticed that all my Google calendar events are syncing just fine automatically.
Week Calendar HD allows you to link contacts to events, without inviting the contact.The contacts will automatically be listed in the details of the event: tapping on a contact takes you to the contacts Address Book page. This is useful if you need to call someone before an appointment or need info quickly.
Holidays for different countries are provided for reference, and the program is available in numerous languages. And, events can be shared via e-mail, as well as printed if you have your iPad set up to print. If not, you can always improvise like I do -- snap a screenshot of whatever calendar image you want, save it under Photos, and copy and paste in the body of your e-mail. Nifty.
Calendar fanatics will love this program, and I've already made it my favorite. Try it out and see what you think--it's available on the itunes store for $1.99.
ps apparently as of August 24th, Apple "ordered" the developers to change the monthly view functionality to a mini- size. Not sure of the rationale for this, but the program rocks anyway!
@carriewriter