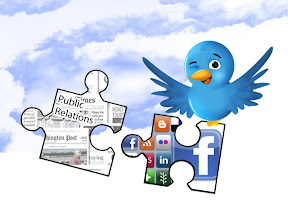 During the course of the last year or two, I've met many public relations specialists. I've written press releases for some, and for others, I've handled media outreach and story pitching. In nearly every instance, social media was an afterthought. They either didn't "get it," or they didn't think it was important, and it surprised me that I had to deliberately bring social media up, as if it hadn't been the fastest growing phenomenon since sliced bread.
"I don't like Twitter," I heard a lot. Or even worse, "my client doesn't like Twitter." "Facebook is too confusing," I heard. Or, "I don't know how to do video."
Sometimes, I heard the opposite comment, that pr firms expected social media to transform their lives, and provide instant results for their clients.
Wrong mindset! Social media is used to build online community and brand. It can be about selling eventually, but people buy from those they know and trust, and that can take a while. Not only that, but if your audience senses you're trying trying to sell to them too quickly, or they haven't gotten enough value from their connection, they're going to sign off and tune out.
Social media can best be used to enhance the public relations activities you already have going on, much in the same way it's used to enhance traditional marketing. Think of it as the dressing on your salad!
Here are a few tips on how to enhance your pr efforts with social media, for press releases and events specifically.
1. 0n the press release, include not only your client's website, but any of their social media profiles. If they don't have any yet, set up a Twitter profile at the very least, and start following relevant people or organizations of interest. You can also use Twitter to set up a hashtag for your event or news, which will help establish a social media online "trail."
2. Make sure to include the Share button on your release, to make it that much easier to spread the information.
3. Research bloggers who might be interested in covering your product or event, and reach out to them individually, with specific pitch letters that show you are familiar with their posts. Don't send out a generic note--they will ignore it. (I know that as a blogger, I have always responded to pitch letters that were specifically addressed to me, and that got to the point quickly, typically in the first paragraph.)
4.Graphics always enhance and liven up your releases, so include photos in the body of your release, with a link to your Flickr set, if you have one. Press releases with video and YouTube links have been proven to get more traction then those without, so take every opportunity to add multimedia when you can.
5. In order to build buzz, try introducing a social media contest in the weeks before an event, where your community can earn a prize or a discount by retweeting or sharing your information. You can award the winner at your live event. Encourage social media posting during the event to build online brand, as well as SEO.
6.Use your own company blog if you have one, to publish your release and info about your event, and use SEO techniques to heighten your online visibility. A strategically written blog post may also contain links to other companies and individuals, who will ultimately see that you linked to them, thus increasing your brand awareness. This recently happened to me on a
blog post
I had republished as a result of Peter Falk (Columbo's) death. I had linked to
Radian6
, and their community manager saw the mention and retweeted my post!
These are just some of the ways you can integrate social media with PR tools. Please post in the comments if you have any other experiences or ideas.