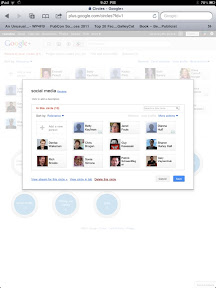 I've begun to test the waters in Google+, and while I disagree with some out there who feel this platform could eventually replace Facebook and Twitter (I just don't think the average user is going to spend the time sorting out "Circles" and "Hangouts," for example), I do like the fluidity of the Stream structure it offers, and the availability to easily share links and open up chats. There is, as some have noticed, some redundancy and confusion in the Circles, which I think Google will need to refine down the line. Will I always take the trouble to share info with one Circle vs another, for example? What if my relationships change over time...will I take the time to drag and drop folks to reflect these changes? Not sure, but I also know that while I was one of the early adapters to Facebooks List feature, which allows you to create categories for new friends, I rarely use this tool except as an initial organizer.
In the meantime, I've received so many great overviews in my inbox and through searches this week, that I thought I'd share my top 10 here with you. I'm also sharing my
profile link here
.
Good luck with Google+, and feel free to share your favorite tips posts here.
1.
Mashable: 10 Hints and Tricks for New Users
2.
Flyte Blog: Managing Your Privacy Settings
3.
Copyblogger: Is Google Plus the Ultimate Content Marketing Platform?
4.
Pamorama: 25 Google Plus Resources
5.
Bill Handy: How to Search Google Plus
6.
Simply Zesty: 10 Awesome Video Tips
7.
PC World, 8 Quick Tips and Tricks
8.
Blogging Bookshelf: 61 Google Plus Tips, Thoughts, and Requests
Final note: in reviewing many of these posts, the overall verdict seems to be positive, with the majority of users viewing Google Plus as a welcome change from Facebook, and a more streamlined user experience. I agree that integration with YouTube needs to happen, and the default photo uploads from Picasa were something of a shock for me when I reviewed my own profile, as I pretty much forgotten about Picasa and had relied on Facebook and Flickr! Anyone else?
Caroline Jaffe Pickett, @carriewriter